The panel is led by Brenda LaPorte and Peter Rix and new members are added regularly. Register for Updates so we can keep you up to date on new judging appointments.
If you would like to offer your industry knowledge and experience as a member of the Industry Judging Panel, please contact us with a summary of your experience and the category that you would like to judge. If a vacancy exists that may be suitable then we will forward your information to the Co-Chairs of Judges for a decision.
Brenda LaPorte
Brenda has most recently served as the General Manager – Strategy, Planning and Workforce for the ICC Cricket World Cup 2015 and is currently a Non-Executive Director on the board of Athletics Australia.
She has extensive experience in the business of sport including the creation of Cricket Australia's newest commercial property the Big Bash League. Prior to this her roles have included the position of General Manager – Project Planning, Risk and Strategy at the Commonwealth Games in 2006 and Senior Advisor to the Australian International Sporting Events Secretariat.
Brenda holds a Bachelor of Business, a Masters of Business Administration & a Masters of Business.
Peter Rix AM
Peter Rix is a pioneering Australian artist manager and acclaimed event producer.
He commenced Peter Rix Management ('PRM') in 1972 and over the ensuing 15 years managed the careers of Marcia Hines, Jon English, Richard Clapton, Mark Holden, the rock band 'Hush', Billy Field, Sharon O'Neill, Anne Kirkpatrick and many others.
With a reputation for reliability, ingenuity and marketing savvy, the business prospered.
A total of 48 platinum and 53 gold albums and 35 gold singles were awarded to artists managed by PRM in those days.
By the early 1980s, Peter had become the producer of a number of iconic Australia music events, commencing with the Variety Club's annual 'Carols by Candlelight' concert at Parramatta stadium, Hoadley's 'Battle of the Sounds', the 'Rock Eisteddfod' series, the 1979 'Concert of the Decade' on the steps of the Sydney Opera House to an audience of 250,000 people, then onto the legendary 'Narara Music Festivals' at Old Sydney Town in 1983 and 1984 along with Rugby League grand final entertainment and State of Origin matches and the early day of Friday Night Football.
There were bicentennial activities in 1988 and the Sydney Olympic Games live sites in 2000, all of this in parallel with a growing client base of Australian corporations and their live corporate activations. They included Toyota Australia, the St George Bank, PwC, Lexus Australia and Coca-Cola.
However, it is Peter Rix's initiation, creation and chairing of the ARIA Music Awards, in collaboration with his music industry colleagues, from its inception in 1986 and for the following 14 years, that is his most lasting legacy.
The George P. Johnson company of Detroit, Michigan, purchased Peter Rix Management in 2004. With Peter at the helm, first as Managing Director then as Chairman, the business created a proud tradition of delivering unique marketing experiences for some of the globe's most enduring brands including a 30 year history with Toyota Australia, IBM, Amazon Web Services, SalesForce, Oracle, Optus and Woodside.
Additionally, the company embraced such diverse offerings as Mercedes-Benz Fashion Week, the APRA Music Awards, Sydney Opera House NYE celebrations and the Housing Industry Awards.
After a 14 year career with George P. Johnson, Peter Rix re-established Peter Rix Management on 1 January 2018 and continues the tradition of providing interesting, creative live experiences delivered with his unique personal touch and commercial acumen. His helming of the APRA Music Awards continues.
In 2011, Peter was recognised with a Lifetime Achievement Award by the Australian Event Awards. He continues to manage Marcia Hines, and is the creator/producer of Velvet and Pigalle, critically acclaimed burlesque, circus, disco theatre shows that have toured the globe, including the Sydney Festival, the Edinburgh Fringe Festival, the Sydney Opera House and with Velvet winning the 'Pick of the Fringe' at the Adelaide Fringe Festival.
Most recently Peter has moderated a podcast series called 'From the Inside' for PodcastOne, a series of interviews with Australian music luminaries.
Stacey Buckley
Stacey is pioneering the way for females in the AV and technical industry, being only one of a handful of women in Australia to own an audio visual and production company. Director and Co-Owner of eventX, an award winning production company providing technical and creative services for the business events community. Stacey's 20+ years in the event arena started back in 1999 working with a global event technology company and most recently, collaborating with other industry colleagues to create eventX.
During her career, Stacey has been involved in the design and production of hundreds of business and community events delivering production for numerous high profile national and international clients. Stacey has built a strong reputation for event production management within the Queensland events community and has developed many key business relationships during her career. Stacey is widely recognised for her holistic approach to event production including design, creative, technical and digital solutions. This is Stacey's 3rd year as a Judge for the prestigious Event Awards and she also volunteers her time to a working group providing strategic advice to the Sunshine Coast Events Board and reviewing opportunities that support the regions investment in major events.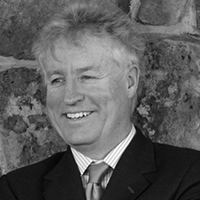 Peter Jones AM
Peter Jones is one of Australia's leading event producers, creating and designing special events for over thirty years.
Based in Melbourne, Peter and his team have been the recipient of over thirty-five Meetings & Events Industry Awards, including induction into the Hall of Fame in two separate categories – Special Event Organiser and Public Event of the Year.
In 2010, Peter was awarded the International Special Events Society Michael Milburn Lifetime Achievement Award and in 2012 he was presented with the Outstanding Contribution Award by the Meetings and Events Industry. Only a few years later in 2016, he was awarded the Lifetime Achievement Award at the Australian Event Awards, also receiving a Certificate of Commendation from the Lord Mayor for twenty-five years of outstanding service to the major events industry in Melbourne at The Melbourne Awards.
Last year he was appointed as a Member in the Order of Australia at the Australia Day Honours for significant service to the tourism and hospitality sector. They particularly highlighted his involvement and influence as an advisor, in event management and to the community.
Peter has continually dedicated a great deal of time to representing and supporting the industry at many levels. He recently stepped down as Chairman of the Victoria Events Industry Council and as a member of the Victoria Tourism Industry Council. He was also a board member of Destination Melbourne, past President of the Melbourne chapter of the International Special Events Society and on the Tourism Australia Business Events Advisory Panel.
Michelle Morris
With an impressive work history spanning over 25 years across a wide range of organisations in the sport, major events and tourism sectors, Michelle has a proven track record of success in strategy, bidding, project management, operational planning and the delivery of major sporting events.
Michelle is currently a Principal at MI Associates, an Australian based global business who specialise in venues, events and advisory consultancy across Sports, Art & Culture and Tourism, boasting a clientele of the some of the biggest events and sporting organisations in the world.
Throughout her career, Michelle has been highly sought after for her skills in mega & major events. Michelle has held a CEO role delivering the 2004 Commonwealth Youth Games and senior leadership roles leading strategic, project and operational planning for major international events including the ICC Cricket World Cup 2015, Melbourne Commonwealth Games 2006, Manchester Commonwealth Games 2002 and the Sydney Olympic Games in 2000.
Michelle recently led Basketball Australia's successful development and delivery of the FIBA 2022 Women's World Cup candidature and bid. She also developed and led the Venue Selection process across 14 host cities in Australia and New Zealand for the ICC Cricket World Cup 2015. Responsible for identifying and securing major events in Victoria, she developed Victoria's Regional Events Strategy and is currently working with the IOC in Tokyo at the 2021 Olympic Games.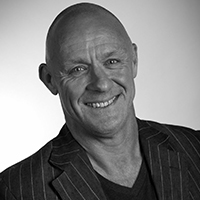 Meri Took
Penniless muso turned roadie, Meri Took started the first ever event crewing service in Sydney in 1978. Meri toured the world for many years with the cream of rock royalty including Neil Young, Elton John, INXS, The Police, Elvis Costello and Cold Chisel in Lighting and Production Management Roles.
Meri was Technical Director and Designer for the launch of the Apple Macintosh in Hawaii in 1983, and has since worked on thousands of corporate events. He was Production Director for the Opening and Closing Ceremonies of the Paralympic Games in Sept 2000. He is known for his vast experience, his staging of successful events, exceptional project management skills and a matchless attention to detail. His Australian production company, Production Techniques, was a ground breaking industry leader in the late eighties.
In 1990 Meri identified a gap in the Australian market for rental theatrical drapes and stage risers. Starting with a dozen drapes, some second hand risers, and a strong commitment to service excellence, Staging Rentals was born.
Staging Rentals & Construction Services was a multi-award-winning company with branches in Sydney, Melbourne and Brisbane.
The business has now ceased operations and is being wound down, and Meri remains closely connected to the industry.
In 2015, Meri was awarded a Lifetime Achievement Award at the Australian Event Awards.
Simon Balderstone AM
Simon is the Founding Director of Ways and Means Consultancy – a consultancy on events, bids, issues management, sustainability and Indigenous programs. He is the Founding Chairman, and a Director of the Australian Himalayan Foundation (2002-) and was a member of the successful First Australian Mt. Everest Expedition 1984.
His career has seen him be a journalist; author; trek guide; Ministerial and Prime Ministerial Senior Adviser, through to Board member (1993-5) and a General Manager at SOCOG (1995-2000); as well as Adviser and Executive Editor/Writer for the successful Tokyo Bid for the 2020 (now 2021) Olympic Games. Also,
Board Member and Scholar Mentor, ITNewcom Foundation (2013-2019)
Member, IOC Evaluation Commissions for the Olympic Games of 2008, 2012, 2014, 2016 and 2018
Advisor, Yothu Yindi Foundation/Garma Festival (2001-2010)
Senior Adviser (Environment, Indigenous Affairs, Sport) to Prime Ministers Hawke and Keating (1990-95), and Senior Adviser to Environment and Sports Minister (1987-90)
Winner, UN Global 500 Roll of Honour for Environmental Achievement 2001, for Sydney 2000 Olympic Games Environment program
International Olympic Committee (IOC) Adviser (2001-2011), including for Beijing 2008 Olympic Games, and Athens 2004 Games; Advisor to Beijing 2008 and Rio 2016 Olympic Games Organising Committees
Board Director, Clean Up Australia (1995- 2003)
Elizabeth Bindon-Bonney
A long career in the event industry specializing in the organization and management of national and international business events, primarily in the association and incentive market, has equipped Liz well in her move into the education space.
Her particular interest is in feasibility studies, strategic planning, the development of event concepts and design, marketing strategies, risk management and event sustainability. In the role of Advanced Skills Lecturer Liz is responsible for academic leadership, the work integrated learning program, development and maintenance of industry partnerships and event traineeships.
The key focus of Liz's teaching activities, in collaboration with students, is the development of feasibility of event concepts as a driver of change, brand recognition and income generation for the not-for-profit sector. The philosophy is to foster both critical and creative thinking and build a sense of social responsibility and awareness in the student cohort.
Liz has completed a Master of Education and currently studying her Doctorate of Education.
Acknowledgement of Liz's contribution to the event industry includes: board representation for Meetings and Events Australia and the Perth Convention Bureau, Chair of Meetings and Events Australia (MEA, WA), and Vice-President of the Events Industry Association. She is also a member of the Events Industry Advisory Group with FutureNow, the Western Australian Training Council for the Creative and Leisure Industries which are a collective of Arts and Culture; Tourism, Hospitality and Events; Information Communications Technology; Media; Printing; and Sport, Recreation and Racing.
Graham Brown
Graham Brown is Professor of Tourism in the School of Management at the University of South Australia – which was the first winner of the Education category at the Event Awards. He gained his PhD from Texas A & M University and has worked at universities in England, Canada and Australia. He is particularly interested in the relationship between events and destination management and was actively involved in the New South Wales government's Tourism Olympic Forum prior to the Sydney 2000 Olympic Games. More recently, he has conducted studies at the Beijing 2008 and London 2012 Olympic Games, the FIFA 2014 World Cup in Brazil and the Tour Down Under in South Australia. He is in the process of writing a book about Eventscapes which discusses, with a series of case studies, the importance of design for environmental settings when staging events.
Graham Brown has recently published his book, Eventscapes, which directly examines the interrelation between events' simultaneous dependence on and transformation of the places in which they are held: Read More about the Book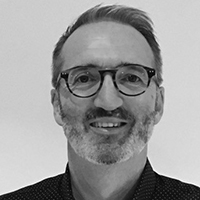 Scott Crebbin
Scott is a communications and events specialist with over 23 years' experience. He is the Director of the communications agency Platform6, which he established in 2015. Platform6 clients come from both the public and private sectors, specialising in event and government communications.
Scott has worked on some of the world's biggest sporting and cultural events including the Sydney Olympic and Paralympic Games, the Manchester Commonwealth Games, the Asian Games and four Rugby World Cups.
He has consulted extensively to the New South Wales Government on the delivery, government coordination and issues management for many of the state's major events including New Year's Eve celebrations, Sydney Festival First Night, APEC and the Oprah Winfrey visit. He has worked directly on numerous events including the Sydney Harbour Bridge 75th Anniversary celebrations, Anzac Day commemorations, Sydney Gay and Lesbian Mardi Gras and Gough Whitlam Memorial Service in Sydney.
Scott has also held positions as Communications Manager for both the Football Federation Australia and the Darling Harbour Authority, Media Adviser for the Sydney Olympic Games and as the Marketing and Communications Manager for the International Olympic Committee based in Lausanne, Switzerland.
Heath Campanaro
Heath is a communications expert with a diverse background of marketing roles, both in Australia and in the UK.
Beginning his career in Account Service, then Planning and finally Creative, Heath became one of Australia's youngest Creative Directors at just 28, and the General Manager of Imagination at 30.
Since then he has led projects across major events, experiential, direct, digital, advertising, sponsorship and internal culture change projects.
Heath has been with Imagination for 14 years and is a Director of the Australian business, helping to grow the team into one of Australia's most respected integrated agencies, with over 80 staff in Sydney and Melbourne.
Heath has worked with a range of clients across most segments, including the City of Sydney, the Royal Australian Navy, Commonwealth Bank, Ford, Telstra, Coca-Cola, Budweiser, Diageo, AMP, American Express & Panasonic just to name a few.
Kathryn Creech
Kathryn Creech has over 25 years of event planning experience in corporate conferences, sports and not for profit.
Kathryn recently managed an international events team including Australia, New Zealand, South Africa, USA and Indonesia. Her role was to work within the Executive Leadership, Head of Department Team, and Country CEO's to plan, develop, manage and review the events in the events global calendar each year. Now choosing to live a slower paced life, Kathryn is now a events contractor.
Roger Desailly
Roger Desailly is currently the Director of Forte Event Management, a consultancy business that specialises in project and event management services and solutions to rural and regional Australia. He is also the State Manager Qld for the Australian Meat Industry Council, with responsibility, amongst other key member services, for the planning and delivery of regional and state marketing events and competitions for the retail meat industry sector in Queensland.
Holding a Bachelor of Education, an Executive Certificate in Event Management from the University of Technology Sydney, a Major Event Management Professional Development Award from the University of Sydney and the University of Technology Sydney Executive Management Program, and part way through an MBA, he has a wealth of experience in the events industry.
Past roles include Queensland Manager with the Australian Institute of Management, Director of event management consulting company, TrueNorth Event + Project Management, CEO of "Beef Week 2012" Australia's International Beef Industry Expo and Trade Show, Stadium and Events Manager (Townsville) for the 2003 Rugby World Cup, CEO of Events Cairns and Festival Cairns, Event Director for the Virgin Blue Airlines Corporate Launch in Brisbane in 2001, Human Resources Manager for the 1996 World Junior Championships in Athletics, General Manager of the Australian University Games and Board Member of Capricorn Tourism Major Events Taskforce.
Roger has also freelanced as an event journalist for several major industry, tourism and sporting events, lectured in event management and marketing in both the VET and University sectors over a number of years, sits on a number of event industry, business, rural and regional development and education sector boards and committees and has worked with a wide range of industry organisations, non profit charities, membership based associations and local, state and federal governments on the planning and delivery of major event training, skills and knowledge development initiatives. Roger is currently working on a regional Australian event workforce development project for the agribusiness sector.
Sebastian Flynn
Sebastian Flynn is currently Senior Manager – Major Events with MDA Ltd (Multicultural Development Australia) based in Brisbane (appointed May 2013), delivering major annual events: MOSAIC Multicultural Festival and LUMINOUS Lantern Parade, as well as a myriad of program launches and MDA regional events in Rockhampton and Toowoomba.
Sebastian was formerly Managing Director of the National Folk Festival, Canberra – delivering four successful events from 2010-2013, winning the Canberra and Capital Region Tourism Award for Best Festival Event in 2011 and 2012, a Public Relations Institute of Australia (PRIA) Award for the 2012 festival media as well as a coveted Canberra Critics Circle Award for his programming and theming of 'For the Fallen' presented in collaboration with the Australian War Memorial for ANZAC Day 2011.
Sebastian also designed and delivered the 'Back to the Island' music program for Robyn Archer and her team for the Centenary of Canberra celebrations attended by 140,000 people on the shores of Lake Burley Griffin, Canberra in March 2013.
Sebastian was Director of the Queensland Multicultural Festival from 2006-2009 – delivering four highly successful events on behalf of Queensland Government, with an audience of up to 65,000 people. He was also responsible for the Premier's Multicultural Photographic Awards, Queensland Multicultural Awards, Diversity Rocks Education program, Diversity Writes Literary Event and Diversity Talks on ABC Radio.
Formerly Programming and Production Coordinator for BEMAC (Brisbane Multicultural Arts Centre) from 2001-2005, Sebastian delivered many successful culturally diverse music performances at the Queensland Performing Arts Centre, whilst garnering a broad knowledge and passion for ethnic music and cultural traditions from all over the world.
Sebastian has served as a judging panel member for the highly-coveted national Australian Event Awards for the past four years.
Sebastian is founder and member of the Ensemble Diaspora in Brisbane, a 10-piece World music ensemble – playing festivals and major occasions since 2013, including performing for the international G20 Summit gathering in Brisbane in 2014. He is also a regular performer, presenter and MC at the world-renowned Woodford Folk Festival in Queensland, Australia.
A classically trained violinist and folk fiddle player, Sebastian is also Chair of Subud International Cultural Association (SICA), which works to nurture human values through art, culture and creativity and presents cultural programs throughout the world.
Sebastian is the designer of the 'Culture Compass' – an educational and re-orientational tool for anyone looking to re-evaluate their life experience and shape their creative approach. It also serves as a cultural cameo educational tool for young people looking to get a concise overview of diverse cultures and a clearer view of their own creative direction in life. The program was originally piloted with MDA (Multicultural Development Australia) for the benefit of refugee communities in Rockhampton, Queensland, Australia.
Mandy Foley
Mandy Foley has been in the hospitality industry for over 32 years. In 1986, Mandy established Stedmans as a one-stop shop assuming all responsibility for staff, superannuation and payroll for hospitality personnel on behalf of its clients. It revolutionised the hospitality industry and immediately established itself as Sydney's premium supplier of highly skilled and talented industry staff.
Mandy is a trailblazer in her industry, and was invited to manage the IOC Headquarters for the 2004 Athens Olympics, the 2006 Torino Winter Olympics and 2008 Beijing Olympics.
In 2009, she was recognised as the winner of Veuve Clicquot Business Woman Award.
Her commitment to training, hands-on dedication to quality, and adaptability have ensured that Stedmans remains Sydney's first choice for premier hospitality events, venues, caterers, corporate and private clients. The business continues to evolve: Stedmans Promotions was set up to provide high calibre promotional staff for events; Stedmans at Palm Beach was launched as a luxury concierge service for holidaymakers, and in 2012, the Stedmans Concierge division was established to meet demand created by the new luxury apartments being built around Australia.
Mandy is on the Board of Trustees for the Sydney Theatre Company and has been a judge for the Veuve Clicquot New Generation Award since 2014. Stedmans supports many charities, the Taronga Zoo Foundation, the Centennial Parklands Foundation, The Sydney Children's Hospital Foundation, the Royal Women's Hospital Foundation and Sydney Dance Company.
Glen-Marie Frost
A Highly Respected businesswoman, company director, communicator and public speaker. Regarded as a savvy marketer with an unrivalled network of formidable contacts.
From business, media and communications, marketing and public relations, she is renowned for creating and designing highly successful campaigns and events of commercial, social and political significance.
As Head of Glen-Marie Management Group, she is an image, communications and executive life skills coach, business mentor, emcee and corporate host.
More recently Glen-Marie also became a civil celebrant and Maverick for The Equanimity Project. She is also an advocate for homelessness Women in Australia appearing regularly on national TV, media and in documentaries.
Nik Goldsworthy
Nik provides creative, technical and project leadership on a diverse range of events. He built his career finding new ways to connect meaningfully with audiences be it through live broadcasts, immersive experiences or brand activations. His working life began in television in 1997 and whilst at IMG (2007-2010) found his true love, producing culturally important, high profile productions. In the decade that followed Nik was EP on the Sydney New Year's Telecast (Nine Network 2009-12), World Youth Day Host Broadcast (2008), YouTube Symphony Orchestra (2011), Vivid 'Lighting of the Sails' (2013), AFC Asian Cup Opening Ceremony (2015), ABC Annual Public Meeting (2018), A League Grand Final Pre Show (2018), APEC Papua New Guinea (2018) and the IBA Opening Ceremony and Welcome Party in Seoul, Korea (2019). He is an experienced awards show and red carpet producer having worked on over 20 different awards nights including the Golden Guitars, AACTA's, Commercial Radio Awards and the World's 50 Best Restaurants (2017). Nik has provided strategic and creative direction on brand activations for clients such as Google, YouTube, Optus, Netflix, Airbnb, Football Federation of Australia, Southern Cross Austereo, ABC and Foxtel. He is passionate about sport and the live event experience, and currently works at Great Big Events developing new ways to engage with sports fans both in the stadium and at home.
Ashley Gordon
Ashely co-founded Carillon Conference Management (CCM) with his brother and business partner, Jonathan, in 1985, after holding executive positions with Southern Pacific Hotel Corporation and Lend Lease Leisure.
CCM is now a long established professional conference management company based in Brisbane with representatives and alliances in key markets around the world. Ashley has personally directed many of the 650 major conferences and events managed by CCM for a broad range of clients, from the association, corporate and government sectors.
CCM was presented with the CIM Magazine Best Meeting or Conference Award at the Australian Events Awards in 2013 for managing the largest and most complex scientific congress ever held in Queensland, the 34th International Geological Congress (IGC). IGC was attended by 6012 delegates from 137 countries and featured 3240 guest speakers.
No stranger to international business, Ashley has led numerous industry trade missions and promotional delegations, most notably into Asia, Latin America and Europe. Ashley brings top-level seniority to conferences and skills in negotiation, diplomacy and international relations.
Bill Harris
Bill is a graduate of the University of Melbourne (Commerce) and the National Institute of Dramatic Art (Technical Production). Following a period as resident Production Manager at Belvoir Street Theatre, Bill took on the Production Management role for the Sydney 2000 Olympic and Paralympic Arts Festivals.
As Production Director for the 2002 Adelaide Festival of Arts, Bill's role incorporated the creation and development of new Australian and international productions, together with the inclusion of several community based projects.
In mid 2002, Bill returned to NIDA as Head of the Production course, fulfilling a desire and commitment to the training of young people in the Arts.
As Head of Programming at Sydney Festival from 2007-2012, Bill was instrumental in the sourcing and delivery of major Festival works and produced events such as Festival First Night, Movers and Shakers dance series, Smoke and Mirrors, Dawn Chorus and Trocadero Dance Palace. Following Sydney Festival, Bill was appointed Executive Producer for Global Creatures, where he was responsible for leading the Producing and Production teams in the delivery and management of the world premiere season of the stage musical, King Kong. Following Kong, Bill has worked on a contract basis for companies and events including: Erth Visual & Physical, Carriageworks, City Recital Hall, Adelaide Festival, Live Performance Australia, Barangaroo Delivery Authority and the Australian National Maritime Museum.
Dr Rob Harris
Dr Rob Harris is a former Director of the Australian Centre for Event Management, at the University of Technology Sydney where he also co-ordinated the Master of Management (Event Management). After leaving UTS in 2017 he established Event Training Australia which delivers event management education and training programs in Australia, Southeast Asia and the Middle East. Rob is a co-author of the texts Festival and Special Event Management and Event Management. He has acted as a consultant for a variety of organisations associated with the events field including Arts ACT, Events Tasmania, Events NSW and the Sydney Olympic Park Authority. Rob was a foundation director of the Festivals and Events Association of Australia, and presently serves on the editorial boards of the academic journals Event Management and the International Journal of Event and Festival Management.
Alana Hay
Alana is the founder of Milestone Creative Australia, which specialises in strategy and marketing of major events, festivals, tourism, business events, creative industries and the arts.
Alana's 25 year career spans strategic planning, branding, event acquisition, tourism development, event development and destination marketing. She is passionate about the events industry, the arts and the development of engaging programs, public places and spaces. She has a deep understanding of events and the role they play in creating inclusive, vibrant and shared destinations and communities and she loves creating connections between brand, community and events for tourism and visitation outcomes.
Alana has been instrumental in the development and marketing of the largest and most prestigious major events, festivals, precincts, venues, destinations, arts organisations and corporates across Australia. These include Sydney Olympic Park, Royal Botanic Gardens, Wollombi, Vivid Sydney, Sydney Royal Easter Show, Mardi Gras, Corroboree Sydney, Merivale Group, SMC Events, Laissez-faire, Destination NSW including its new regional conferencing marketing strategy, Sydney's West, Australian National Maritime Museum, Sydney Theatre Company, Bangarra and Performance Space.
Alana regularly delivers presentations and training for the industry on topics including strategy, tourism, marketing, ticketing major events, event acquisition, event development and digital marketing. She is active in the industry, is on the Board of Directors of Meetings and Events Australia (MEA) and is an Accredited Fellow Member of MEA (AFMEA).
Toni Kasch
Toni has been responsible for the management of exceptional and logistically challenging events at Brisbane Airport since 1992.
During her extensive career Toni has worked with a long list of high profile global airlines, industry organisations and government partners in the delivery of award winning launch campaigns designed to leverage important relationships and gain valuable international media coverage. Major highlights include event managing the Routes Asia 2018 Conference involving 1200+ global delegates, for which she won two international awards, and the recent 'Sunset Sangria' event for the 145th IATA Slot Conference on Brisbane's new runway for more than 1000 people.
Notably, Toni devises strategies and themes that make each event truly unique through the thoughtful consideration of the values and aspirations of each partner and the skilful application of individual brand elements into the final production. Her superior negotiating and organisational skills has also helped her over-come the many complex restrictions of working in a sterile airport environment, to safely deliver above and beyond the expectations of partners.
Toni studied Event Management at University of Technology NSW and is currently employed as the Aviation Marketing and Events Manager at Brisbane Airport Corporation.
Stuart Katzen
Stuart Katzen is the owner and director of Eventify, a boutique events and incentive agency based in Sydney.
Stuart has designed and delivered hundreds of events over the last 20 years, from simple bespoke dinners, to large logistically complex events, both around Australia and overseas for a wide variety of clients.
Stuart has created and delivered events from inside train tunnels and on remote beaches, to mountain tops and on public roadways and bridges, all with success.
Stuart is not only an accomplished and experienced event producer and creator, but also works in TV and film.
As a storyteller, Stuart draws on his skills from film and theatre to deliver his events and clients message in way that is unique and engages and delights audiences on multiple levels, ensuring they keep coming back for more.
Stuart also speaks on events nationally and internationally and writes a quarterly column on events for Micenet magazine.
Darren Kerr
Darren is an international award winning business communication professional who has been actively engaged as an Agency Head, Executive Producer, Show Caller/Director, International Projects Director, Experiential Marketer, and Creative Strategist in the creative design and delivery of innovative and engaging live communication programs, strategic marketing, authentic brand experiences & integrated digital solutions for a broad range of clients.
Based in London, schooled in Brisbane, skilled in Sydney, and matured in Hong Kong – Darren delivers creative event experiences throughout the world for a curated portfolio of corporate clients and white-glove services on behalf of agency partners.
Notable projects have recently included the Wall Street Journal CEO Summit Tokyo, Huawei product launches in Berlin, Nice and Barcelona, 65th Miss Universe After Party, launch of the Okada integrated resort, eight successive years producing the President's Club incentive series for EMC throughout Asia, and the APEC CEO Summit with over twenty heads of state in attendance including President Obama and President Xi Jingping.
Prior to basing himself in Asia, he designed and produced Australia's largest corporate incentive series for Amway China with over 14,000 first-time guests at three iconic Sydney locations.
Producing impactful live event experiences that integrate the live and the digital experiences, he is highly regarded for drawing on his great depth of business theatre fundamentals, strategic marketing expertise, targeted program design creation, eclectic styling senses, creative storytelling – to achieve powerful results.
His work has been recognised with a number of international awards including Best Event Production, Best Social Event over USD75k, finalist in the Best Export category at the 2010 Australian Event Awards, and in 2013 won the 'Markies' agency of the year award.
Cameron Little
Cameron Little is a sustainability consultant and educator who provides policy, system and program development, training and staff coaching for organisations seeking to achieve their sustainability objectives. He has over two decades experience within the fields of environment, sustainability and corporate social responsibility.
Through Event Sustainability Services, a specialist event sustainability consulting and service provider, Cameron provides sustainable event reviews, systems, action plan development. At-event services include food waste composting and waste minimisation, energy efficiency and preferred product procurement support.
Cameron teaches Environmental Auditing for University of New South Wales and Sustainable Event Management for several universities and colleges and provided technical advice in Sustainable Events and ISO 20121 for Bureau Veritas. He is currently establishing Sydney Sustainability Centre to support business and the community on their sustainability journey.
Andy Lopez
Andy Lopez started Out There Productions in 1996. The business group includes event agency OTP Australia, and OTP Major Events, the promoter arm.
Andy has a serious passion for major public celebrations – he loves delivering events with a purpose, and the bigger the crowd the better. The OTP group's events are enjoyed by hundreds of thousands of Australians every year.
Andy is also a co-owner of the Summernats Car Festival, buying this iconic event in 2009. The Summernats has grown from 75,000 punters to over 110,00 every year, and brings over $30m to the ACT economy. The motoring lifestyle arm of OTP now includes MotorEx, Australia's leading automotive industry consumer show, the Red CentreNATS, a destination tourism event in Alice Springs that brings $10million to the NT economy, and RockyNats which earned $20million for the Rockhapmton region in its first year.
David Malacari
David Malacari has had an extensive career in the Arts, Arts Festivals and Arts Events. He has directed nine festivals and worked on numerous others.  This roster includes Auckland Arts Festival, Parramasala Festival (Parramatta) and Ten Days on the Island (Tasmania).
Malacari also directed the multi-arts program for Australia India: New Horizons, an Australian trade and cultural exhibition presented simultaneously in five Indian cities, and was Director of Heads UP – Australian Arts Come to London, presented in London for Australia's Centenary of Federation celebrations, for which he was awarded the Centenary of Federation medal.
In 2011 he was Executive Producer of the Commonwealth Festival which accompanied the CHOGM conference in Perth.
Mr Malacari is a strong supporter for the work of local artists, of indigenous arts, and programs that celebrate the newer cultural communities in our society.
As part of Auckland Festival he introduced the first White Night to Australasia, set an Asia-Pacific focus to its program, and presented a fireworks event to an audience of over 150,000. At Parramasala Festival he broadened the remit beyond South Asian arts to embrace Western Sydney's other new communities; and at Ten Days on the Island, commissioned significant new Australian work and expanded the program to present work from China and the Asia-Pacific to Tasmanian audiences.
Mr Malacari has been invited to participate in forums and festivals around the world, speaking on the arts, culture and cultural policy.
Hailey Mason
Hailey has been in the Events and Event Marketing Industry for 20 years. Starting a career working with sporting governing body, Snowsport GB, quickly moving up to Athlete Coordinator for Winter Olympics 2002. She spent many years in Action Sports managing participation events such as British Ski Championships and The Brits. At this time Hailey was also qualified as a Technical Delegate for the FIS gaining experience in sporting government legislation. On moving to Australia she then worked for EMAP Australia / ACP (now Bauer Media) in the Marketing/Events department across many sporting titles before moving over to the entertainment industry to gain a greater understanding of touring and production.
In 2009 Hailey became National Events Manager for Red Bull Australia organising many mass participation, mass spectator and brand events, predominantly in sport. Leading a team across the country executing all international events held within Australia.
In Late 2011 she started her own agency with clients such as Casio, Pirelli and Total Oil. At this time Hailey met Mito Foundation and with them, created and developed The Bloody Long Walk. The event is now a National tour and has just celebrated it's 55th event over 8 years bringing in over $18m to the Foundation. Bloody Long Walk were also the first mass participation event in 2020 to gain exemption to host an event over 500 people in SA, QLD, ACT and NSW – Hailey worked with the mass gatherings committee, lobbyists, government departments and other industry partners. In addition, The Shift agency now manage or have managed, Mothers Day Classic (Sydney locations plus one Qld), Wings For Life, Trails For Change and own Meet Me in the South Coast/ Meet Me in the Middle. Clients include Red Bull, Vans, Reebok, Casio, Harley Davidson.
Hailey's previous agency had been awarded Australian Small Event Management company, plus The Shift has been finalist for Event Management Company of the year 2020 and Hailey has been finalist for Event Producer of the Year four times.
She is now co-host the podcast/webcast The Shift PanelCast, and a Board Member for Australian Mass Participation Sporting Event Alliance.
Abbie McCrisken-Lee
Abbie is Executive Producer at George P Johnson (Singapore) and a previous winner of Event Producer of the Year at the Australian Event Awards 2016.
With a background in International VIP events, Special Event Production and brand activations, Abbie's ability to develop and deliver an incredibly unique and seamless event is second to none. An events specialist with more than 16 years experience, she has honed her skills across an extensive range of events both within Australia and Internationally. Currently although still based in Australia, Abbie is the Executive Producer for the GPJ Singapore Team, managing high value clients such as Google, LinkedIn and Porsche.
Abbie is passionate about creating engaging live experiences for brands that wish to communicate to audiences in a creative way. Her ability to develop creative ideas along with skills in managing the multi-faceted production and logistical elements of large-scale events make her a well-rounded and highly skilled events professional.
Abbie has spent time living in China as well as the East Coast of Australia and now has a base in wonderful Western Australia with her husband, two small children, and an incredibly busy events calendar!
Julie McGraw
Julie McGraw is the Managing Director of GEMS Event Management Australia. With over 25 years' experience in the events industry, including the management of more than 150 conferences and special events, Julie was awarded National Meetings Manager of the Year for 2015 and 2016 by Meetings and Events Australia (MEA).
She has an Executive Certificate in Event Management (with Distinction) from the University of Technology Sydney and holds various professional accreditations in event management in Australia and is the Chair of the MEA PCO Special Interest Group in NSW.
With a career that began in the hospitality industry, Julie has worked for organisations such as Qantas, Sheraton Asia/Pacific and Ritz Carlton as well as consulting for a range of hotel chains. She has lectured in hotel management at both William Blue Hotel Management School and Macleay College and presented at a number of industry related conferences and events over the past 20 years.
Kate Smailes
Kate is an events and communications specialist with almost 20 years' experience. Her career started straight out of university, joining Traffik Marketing for 4.5 year, before leaving to grow and lead the events team at her family's business.
In 2017 Kate joined the Havas group as Executive Director of Havas Blvd. Kate has always believed that events are where brand communications should seamlessly combine to say something memorable about the product. Creativity, focus and exacting attention to detail are only the start. She goes further with a holistic approach to event management, ensuing that everything the guests see, hear and experience contributes to the story the brand wishes to tell.
In 2019 Kate was appointed to the board of directors for the Australian Institute for Motor Sport Safety (AIMSS). AIMSS is a not-for-profit organisation, established by Motorsport Australia (formally CAMS) in 2007, and is the peak body for motor sport safety and related research in Australia.
Kate has created campaigns for leading brands across a wide range of industries including Toyota Australia, Lexus Australia, BlueScope Steel, Nestle, Diageo, Qantas, St George Bank and Revlon.
Chris Toward
Chris Toward is a Founding Partner of The Shift Corp, a purpose led Growth Marketing agency, shifting mindsets for a positive change and specialising in creating growth assets out of events for modern brands, bringing brands to life and igniting them into the new era.
Chris is an Award–Winning Event Director, having worked with IMG and Red Bull, before starting Wingman Events and the Project Nine Event Group.
He has produced Major National and International Events for over 22 years for clients such as Red Bull, Vans, Reebok, Vodafone, Coca-Cola, Destination NSW, Mito Foundation, Black Dog Mental Health Institute, Harley-Davidson and ANZ.
Chris has an "anything's possible" approach and is passionate about the future of the Industry, nurturing the Event Producers of tomorrow, pushing boundaries, innovation, equality, and leaving the world a better place.
In recent years Chris was a finalist for the 'Event Producer of The Year' title at the Australian Event Awards, and the Project Nine Event Group was awarded the 'Small Event Management Company of The Year' in 2018 & 2019 at the Australian Event Awards.
John Trevillian AM
John Trevillian has played a key role in the development of Australia's major events industry for over 40 years. He has led the coordination and delivery of major events that have been "firsts" for Australia in terms of scale and scope: the 1988 Bicentenary; the Centenary of Federation in 2001; the Sydney 2000 Olympic Games City Live Sites Program; and the AFC Asian Cup 2015.
Through his leadership of government coordination services John has shaped and developed some of our much loved national events including Sydney's New Year's Eve, Sydney's Mardi Gras, Australia Day, and visits by international dignitaries and celebrities. John's event coordination systems have been adopted by other Australian states and by international cities.
John was awarded a Member of the Order of Australia in 1995 for service to the community; the Order of the Golden Rings by the IOC for service to the Sydney 2000 Olympic Games; and a Centenary Medal for service to the Australian community in 2001. John was the first person inducted into the Festival and Events Association Hall of Fame in 2003 and received the Australian Event Awards Lifetime Achievement Award in 2015.
Mark Wallage
Mark is the Owner and Creative Director of Concept Event Management and has been producing major events and conferences for almost 30 years.
Known for his skill as a live event director and show caller, Mark worked on the sports presentation teams for the Sydney and Beijing Olympics, the Melbourne Commonwealth Games and the Asian Games in Doha in 2006.
He has also created stunning opening ceremonies for a variety of international congresses in Australia and throughout the Asia Pacific region.
In addition, he has written and directed hundreds of hours of television commercials, training films and other media for clients around the world.
Domonique Wiseman
Domonique Wiseman has a diverse and unique mix of experience spanning over 20 years in the strategic development and implementation of major events and creative brand experiences across the arts, government, tourism, not for profit, sporting and corporate sectors. She also has over ten years' experience in Senior Management roles running event agencies and departments both in Australia and New Zealand.
She has enjoyed a successful career as a freelance Executive Producer, working with International agencies including Jack Morton Worldwide, GPJ and Imagination across the APC region as well as many high profile events for the Queensland Government, Brisbane Lions AFC and major business in Australia and overseas. In the festival space she has held the position of Operations Manager of the Queensland Multicultural Festival and produced several programs for Brisbane Festival, Festival 2018 in addition to leading the creative, strategic and operational development for QRL's Maroon Festival. She was also the founding Executive Producer of the Bernard Fanning Youngcare Benefit Concert.